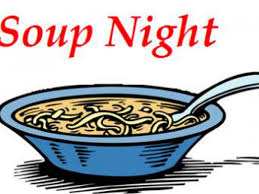 Brr! I can feel the need for some delicious soup, crunchy bread and a small dessert to ward off the winter chills. BBC has the solution as we are holding soup nights throughout June and July.
Our first one will be on Friday June 7 and then the 21st and in July on Friday the 5th, 12th and 26th.
Menus are as below. Cost is $15 per person.  All soups are served at approximately 6:30pm with crunchy bread and a small dessert to follow.
July 26th Kransky Sausage and bean, Thai Prawn, Minestrone and Chicken Mulligatawny Stoup. (Not a miss spelling)
This will be followed by Golden North ice cream and cheese and biscuits.
Some of or wonderful soup makers getting ready to serve.