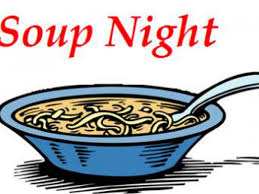 Now that the Covid-19 restrictions have eased we can again enjoy some delicious soup, crunchy bread and a small dessert to ward off the winter chills. BBC has the solution as we are holding soup nights throughout July, August and September.
Our first one will be on Friday July 10th and then the 24th and in August on Friday the 7th and 21st.
Menus are as below. Cost is $15 per person.  All soups are served at approximately 6:30pm with crunchy bread and a small dessert to follow.
Aug 21st  This weeks soups are, Thai Pumpkin, Wild Rice Autumn, Pea & Ham, Coconut Beef & Pumpkin and West Indian Peanut all with crunchy bread followed by a surprised dessert.